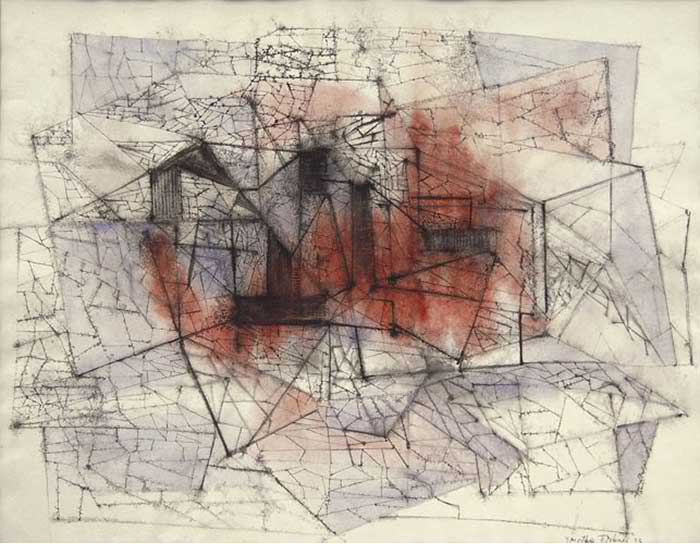 Faced with an object world, on the standard assumption (i.e., that objects are passive or self-contained), the only option a subject has available is trying to direct and manipulate the objects composing that world. Objects have nothing much to contribute, except the details and difficulty of their pliability. Effectively, on this view, objects are virtually waiting around to be consumed, employed, maximized, or optimized. If we relax or eliminate the standard assumption, however, then objects become agents (however alien or inhuman) with which we negotiate in order to achieve various ends or pursue our programs. Negotiation does not preclude direction, but it does necessitate attending to and taking seriously the agency a given object embodies. Objects have their own sinister pathways. Sinister pathways, entangled together, constitute object worlds. And object worlds must be navigated, not simply commanded. Recall that in navigating, one pings or "reads" the landscape in order to determine various locations (e.g., one's own location, points of reference, the desired destination), conditions (e.g., of passability, of visibility), and pathways forward. Every navigation entails some degree of negotiation with objects, then, and, indeed, the autonomy of objects makes navigation possible in the first place.
In this regard, to repurpose an object of whatever sort entails an experiment or a gambit insofar as doing so is an attempt to test what an object can do beyond its apparent function, limitations, or purpose (i.e., its current prospectus) as inscribed in its descriptive apparatus. Consequently, to repurpose an object means two things: (1) we transform its prospectus into another prospectus and (2) we thereby change its place within the ontological networks that produce and sustain it. Repurposing always requires the intervention of speculative reason – that is to say, of positing a different world than the world we think is given. On the one hand, repurposing is always a function of symbolic translocation (i.e., redescription), which refers to practices of reinscribing or shifting our symbolic formations (e.g., arguments, concepts, injunctions, metaphors, phrases, texts, words, etc.) into jarring or novel contexts. (In at least one sense, we already do this whenever we coin a neologism, fashion an idiolect, mix a metaphor, or even commit a malapropism.) On the other hand, repurposing always effects a functional or material shift in the object as such. Either there's a shift in what it does, or there's a shift in what it can do. We err terribly when we think possibilities are irrelevant or unreal, because every object (and every subject, for that matter) is traversing a distribution of possibilities from instant to instant. That something is possible does not make it actual, but its possibility is a necessary precondition for its actualization. Hence, mapping and remapping distributions of possibility is the work of speculative reason. Because thinking is not a ghostly operation that supervenes upon the world without touching it, speculation remains a form of efficacious action – or, rather, it always and irreducibly accompanies what we identify as action in every case.
Accordingly, here's a speculative attempt at an informal algorithm for repurposing objects (and therefore object worlds).
Step 1: Identify the target object.
Step 2: Explicate the descriptive apparatus attending the target object. (Note: Look especially for sticking points in the descriptive apparatus, which block or impede further negotiations and revisions.)
Step 3: Craft a redescription.
Step 4: Project possible effects of your revision of the descriptive apparatus (i.e., try to determine how the redescription affects the object's prospectus).
In a preliminary fashion, let's look at four example objects subjected to repurposing on this model: two technical artifacts (the Phillips screwdriver and earthships), a social construction (the family form), and a temporal category (the future). Hopefully, selecting such disparate objects will indicate something of the wide range of applications of this algorithm and, thereby, its usefulness as a means for conceptual salvage and (re)engineering.
Example 1: The screwdriver
Example 2: Earthships
Example 3: The family form
Example 4: The future
Excursus 6: Recursion
There's been a recursive operation unfolding throughout all of the foregoing, as you might have noticed by now. Step 1: Identify a target object – namely, the philosophical concept of the object. Step 2: Explicate the descriptive apparatus – namely, the standard assumption regarding objects, their signs, and their uses. Step 3: Craft a redescription – namely, a preliminary destruction of the concept of the object in order to free it up for repurposing (see "The left hand of all creation: how to repurpose whole worlds"). Step 4: Project possible effects of the revision – see the examples I discuss above. As with every inquiry worth pursuing, perhaps, at the end, it's time to reformat the original inquiry and start over using the toolset we've developed in the process of following the inquiry path. So: What can objects do, and what can we do with them? I encourage you try using this new object (i.e., an informal algorithm for repurposing whole worlds) now.
Go back to Part 3 "Excursus on creative destruction (Spielrein, Schumpeter, Boyd, Land)" or go forward to Part 5 ("Postface on chirality").